Good news everyone! Blue Hearts of Mars was selected to move to the next round of voting in the Amazon Breakthrough Novel contest!
At this stage, each contestant's novel will be read and reviewed by Publisher's Weekly. I don't even want to think about how PW's going to accomplish that. I mean, how many reviewers do they have to employ to pull that off? They have a month to do it. Best of luck to the reviewers!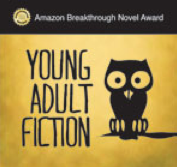 Readers are invited to download the excerpts (here) and rate and comment on the entries. So please, if you want to contribute, download and rate Blue Hearts! Your support is incredibly appreciated!