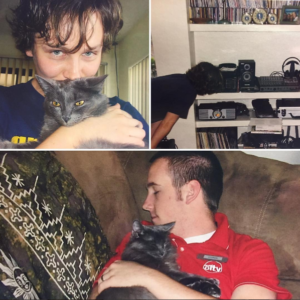 My cat, one of my oldest friends, died Monday. She had a fast-growing cancerous tumor in her mouth, which I basically discovered in December. It was kind of sudden. Yesterday I wrote her a letter. I want it out there, in the universe, circulating. I don't know why, I guess because maybe she'll be reincarnated as an awesome human who will–through a genetic/atomic mutation (possible? Thank you Brandon Sanderson for giving me this idea via Legion: Skindeep), she'll remember she was once my cat, and she'll be able to read this letter, and know how much I loved her and how hard it was for me to put her to sleep.
I'll never forget that moment, and how difficult it was. I've never felt such a deep grief, and I hope I never have to feel it again, for a long long time.
Maybe I'm a huge wimp–totally possible. But I'm still recovering from her being gone so suddenly. I usually don't post confessional stuff on my website . . . or anywhere, for that matter. I guess I'm sort of Victorian like that. I don't know. I tend to feel ashamed for my strong emotions.
Messed up and kind of weird. I know. I don't even get it, because I was raised Mormon/LDS, where crying at the podium as you talk about your feelings about God and the Mormon church is totally normal.
But feeling this sad and grief-torn and then posting about it online . . . isn't. I guess. No idea. Anyway, this is raw and real and could definitely be considered sharing too much information with the world-at-large. Read at your own peril.
So. I hope this post finds Bastet wherever she ends up.

Bastet,
My heart is so, so raw.
I keep feeling like I betrayed you. I don't think I've ever made a more grueling decision in my life, being faced with your suffering and what to do for you. I would have kept you alive forever, if you could have done it without suffering and I had that kind of power.
I keep telling myself that I killed you. That I let the vet kill you, but I know that the cancer was killing you, slowly, agonizingly. You couldn't eat. All day long you drooled and could barely bathe yourself. You hid under my bed, scared of everyone and everything.
I keep replaying yesterday over and over in my head. I told myself Sunday night that you might be okay and that I wouldn't take you into the vet on Monday, because you ate almost half a can of albacore tuna fish. So maybe you were ok!
But then Monday morning, you came downstairs and I put out some of the Feline Greenies treats that you love, and you didn't eat them. That never happens.
And my heart shattered. I went upstairs and held you for a long time, even though you didn't want me to. I wrapped you in the red plaid blanket that you always loved and listened to "Songbird" on vinyl and I cried and cried. "For you, there'll be no more crying . . . For you, the sun will be shining." I tried to wipe up all the drool on your fur and I brushed you, and tried to make you feel clean again.
I hate myself, in a way, for betraying you, because I know in some way only a cat-owner can understand, that it wasn't fair of me to take you to the vet and release you from your body like that. But who should I be mad at? Myself? Or the universe? For making us live. And then suffer. And then die. Why the hell are we even alive anyway? Out of some perverse electrical accident?
You found Stoker and me so long ago, calling out to us as we swam at that pool in Mesa. And I saved you then, from the kids who used to throw you in the pool. And then I saved you again from those stupid people who lived next door to us and adopted a million cats, but then left all of them behind when they moved. They were the worst. I hid you from my landlord and then drove you across the country, keeping you safe, feeding you and loving you. I protected you and you gave me so much joy, and that was why it was so hard to let you go yesterday.
My heart has been raw since I first saw you drooling in December and the vet said it might be a tumor. I used to imagine how hard it would be to let you die when you were younger and healthy. My life and heart were bound up in you from the moment that boy at the pool in Mesa told me the kids would throw you into the pool and laugh. I knew I had to shelter you from the cruelty of the world, but I couldn't protect you from the flaws written into our genes.
Yesterday was one of the most awful days for me. Ever. Before I took you to the vet, I kept having this vision of you going to sleep with your name on my voice, echoing in your ears. I don't know what is beyond death. But I hope that you awoke, bodiless, without the pain of cancer, still hearing me speak to you, telling you how much I love you and will miss you. I hope so. I hope there is a "me" molecule, that carries us into the light, that lets us live again in another beautiful form, and that we do not forget, entirely, who we have been.
I held you as tight as I could, and you laid there, trusting me, as the vet injected your tiny arm with the barbiturate, and I didn't even know you'd gone, until he stopped, and listened to your heart. You were gone. And then I howled in pain. My girl, I've never lost someone so close to me. A constant presence in my life. A little friend, who I communed with daily, crossing the boundaries that separate us as different species, bridging the distance with love and cuddles. You vocalized for me all the time, a thing that I have read cats only do for their human companions.
I hate it that time will heal this wound. I hate it that the memories of you will grow faint as I move away from this time and place. I hate it, but I need it. Because I feel like I can barely go on. I feel a despair at the futility of loving anything and trying to make any kind of mark in this world, because time erases everything. You gave me a reason to live, and you are gone now, and I could never explain to you how much you meant to me, and how hard it was to make the decision to let you leave your body. Did I even have that right? I am human, and I am an ass, and I made it anyway, because I thought it best for you, rather than the slow death of starvation.
Fuck cancer. Fuck the universe.
I have to leave you behind, though. I have to let time move me forward, and I have to let you stay here, in my past, because my heart can't take the pain of reliving how your body felt in my arms that moment you left me. Your tiny gray body, helpless in my arms. Oh, my girl. My Bastet.
I hope you are somewhere out there still. I hope you became a beam of light. I hope you haven't forgotten me.
Losing you, seeing you destroyed by cancer, has been so hard. I have been so despondent and crushed. I've struggled to know how to move on and keep wanting to live. Grief has been eating me alive. It's hard to not want to give up. It's been difficult to see why trying to keep living is even a good idea. But I realized last night, in my darkest moment, the answer. Why should I keep living? Because of the living. Because of the people and friends who are still with me.
Death is primitive and scary and inexplicable. Our animal brains can't grasp it. We are as confused by it as an animal whose best friend simply vanished one day, leaving no body or trace behind (like for Polly, your cat-sister). I know you are gone. I saw the shell you left behind. And it still makes no fucking sense, that you were here, and now you are gone. And I can't touch you or talk to you or see you.
I feel like your ghost is following me. I saw my mom's cat sitting on the bed in a dark bedroom after we buried you under the cherry tree in her yard, and I thought it was you, looking out at me with your owl eyes. I thought you were trying to play with Polly last night as she and I played with the yellow feather toy. I keep accidentally calling Polly, Basty. I hear a noise that sounds like the cat door shutting, and both Sobek and Polly are sitting with me, and I look up, expecting to see you trotting into the living room.
It still feels like you're there.
Basty, I will find you again someday. Even if I have to find a way to stuff my conscience into a single molecule when I die, and hitch a ride back into the time-stream in the body of another human. I'll surf the waves of time until I find you. Look for me, girl. I'll be looking for you.